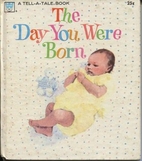 The Day You Were Born. Evelyn Swetnam. Illustrated by Muriel Wood. 1971. 30 pages. [Source: Bought]
First sentence:
Do you remember the day you were born? Do you remember how you felt? First, you were safe and small, growing in a special place inside your mother, and getting ready for the world. You could stand on your head in there and kick and turn and never be afraid. Sometimes you heard noises from the outside world--music, voices, a bang, or a bell. You wondered about them. But you had some more growing to do before you could find out for yourself. Soon you were ready to be born.
Premise/plot: The book chronicles a baby's first day. For the most part, I'd say it has a hospital setting. Baby is introduced to doctors, nurses, a mother, a father, etc. So many "firsts."
The nurse took you to your mother. Your mother reached out her arms and held you close. She was very happy. She undressed you, and looked at you, and played with your fingers and your toes. She hugged you and gave you a kiss. It was your first kiss. You liked it. You liked her, too.
My thoughts: I definitely had this one. I really like it. It reminds me of the beginning of Inside Out.
Text: 4 out of 5
Illustrations: 3 out of 5
Total: 7 out of 10
© 2016 Becky Laney of
Becky's Book Reviews