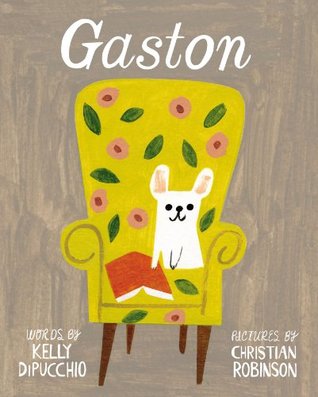 Gaston. Kelly DiPucchio. Illustrated by Christian Robinson. 2014. 40 pages. [Source: Library]
First sentence: Mrs. Poodle admired her new puppies. Fi-fi, Foo-Foo, Ooh-La-La, and Gaston.
Premise/plot: Gaston is not like Fi-Fi, Foo-Foo, or Ooh-La-La. In fact he isn't like his mother, Mrs. Poodle, either. Oh, he tries really hard to excel in his lessons. "Whatever the lesson, Gaston always worked the hardest, practiced the longest, and smiled the biggest." One day in the park, Fi-Fi, Foo-Foo, Ooh-La-La, and Gaston meet Rocky, Ricky, Bruno, and Antoinette. By appearances, it looks like the puppies have been mixed up. Antoinette is a poodle, and Gaston is a bull-dog. Should the dogs trade places?
My thoughts: I really like this one very much. It's set in France, I believe. And it involves two very cute dog families. Mrs. Bulldog and her puppies plus Mrs. Poodle and her puppies. Readers get a chance to see both dog families at home and at the park. The narrative style is fun and playful though the subject is slightly serious: what makes family, FAMILY. Do you have to look the same? act the same? love the same? How much room is there for differences in family?
Text: 4 out of 5
Illustrations: 4 out of 5
Total: 8 out of 10
© 2017 Becky Laney of
Becky's Book Reviews