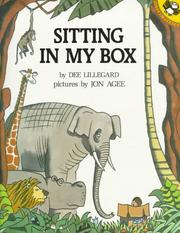 Sitting In My Box. Dee Lillegard. Illustrated by Jon Agee. 1989. 32 pages. [Source: Library]
First sentence:
Sitting in my box. A tall giraffe knocks. "Let me, let me in" So I move over.
Premise/plot: A young boy is reading a book while sitting in a box when....a tall giraffe, an old gray elephant, a big baboon, a grumpy lion, and a hippopotamus intrude in a delightfully predictable way. They ALL want in HIS box, of course. But is there room for so many animals in such a small box?! What can he do?! What will he do?! Read for yourself and see in this imaginative book.
My thoughts: Enjoyed this one very much. Though I do wish it said, "Let me in, let me in!" instead of "let me, let me in." But other than that, this one is definitely delightful and just FUN for sharing aloud. (I loved the "not me, not me, not me, not me" page, for example).
For another picture book about boxes, try A Mighty Fine Time Machine by Suzanne Bloom. That one is also quite charming.
Text: 4 out of 5
Illustrations: 3 out of 5
Total: 7 out of 10
© 2015 Becky Laney of
Becky's Book Reviews