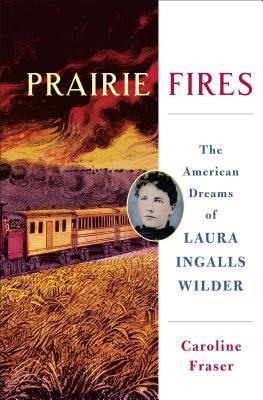 Prairie Fires: the American Dreams of Laura Ingalls Wilder. Caroline Fraser. 2017. 640 pages. [Source: Review copy]
First sentence: On a spring day in April of 1924, Laura Ingalls Wilder, a fifty-seven-year-old farm wife in the Missouri Ozarks, received a telegram from South Dakota. Her mother, Caroline Ingalls, had just died. Wilder hadn't seen her for more than twenty years.
Premise/plot: This book examines the life and works of Laura Ingalls Wilder and places both within the context of American history. Fraser writes, "For those of us seeking to understand the settlement of the frontier, she offers a path, perhaps our best path, to the past."
Is it a biography? Yes and no. If it is a biography, it is a biography of both Laura Ingalls Wilder and Rose Wilder Lane. But I'm leaning more towards it being a history book. The book's focus is on the American story; the personal lives of the Ingalls and Wilder families provide an entry point to this bigger story. Politics. Economics. Policies. Personalities.
Close to a third of the book focuses on the written works of Wilder and Lane. The book provides a behind the scenes glimpse into the writing and publishing process. One definitely gets the sense that the books were crafted with intent and purpose to tell a specific story, to impart certain morals and lessons. Fraser writes, "Her story, spanning ninety years, is broader, stranger, and darker than her books, containing whole chapters she could scarcely bear to examine. She hinted as much when she said, in a speech, "All I have told is true but it is not the whole truth.""
My thoughts: If I have one complaint about the book, it is this: the chapters are LONG. Overall, I enjoyed reading this one. It is a bit on the dry, scholarly side. It is not a straightforward biography. It is anything but concise. IT is packed with details--not just details about the family--but details about the times in which she lived. These historical "asides" aren't really on the side. They are front and center to the book. If you don't love history, then this one probably isn't for you. That being said, I LOVE history.
© 2017 Becky Laney of
Becky's Book Reviews