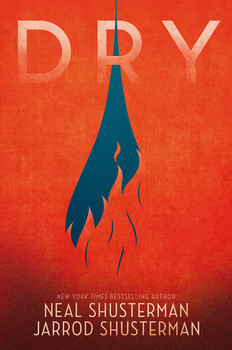 Dry. Neal Shusterman and Jarrod Shusterman. 2018. Simon & Schuster. 390 pages. [Source: Library]
First sentence: The kitchen faucet makes the most bizarre sounds.
Premise/plot: What would happen if a region--say Southern California--ran out of water completely. How would individuals, families, communities react and respond? Would they turn on each other and fight--fight even to the death for a chance to get their hands on a little water? This 'what-if' YA novel is narrated by several teens: two, Alyssa and Kelton, are next-door-neighbors and two are strangers, Henry and Jacqui. There's also another protagonist, Garret, the younger brother of Alyssa. These people come together--unite--to better their chances for survival. But is everyone honest and worthy of trust? Who can you trust when your life is on the line?
My thoughts: This is a fast-paced, compelling read. So much drama and melodrama is packed into a short amount of time--perhaps five to seven days. Things escalate quickly. I didn't have any problems with pacing or the action. I was hoping--in a way--for more characterization. (You know me, I love my character-driven novels!) I felt slightly disconnected from the characters at times. But no doubt it's a compelling enough read. It is a stand alone novel.
© 2018 Becky Laney of
Becky's Book Reviews