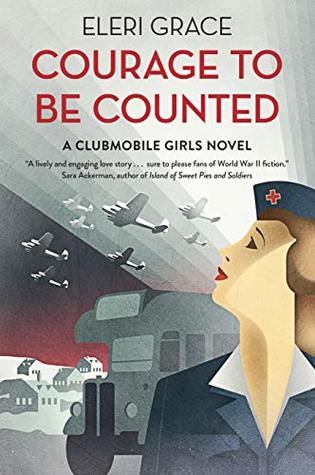 Courage to Be Counted. (A Clubmobile Girls Novel) Eleri Grace. 2019. Bugle Call Books. 350 pages. [Source: Review copy]
First sentence: Dressed in men's flight coveralls and books, Vivian crouched beside her friend, Zanna and squinted at the distant flight line.
Premise/plot: Vivian Lambert is an ambitious young woman who wants to do her part to help the Allies win the war. Her service is through the Red Cross, and her main job will be feeding donuts and coffee to pilots. At least two of her assigned posts has her as a Clubmobile Girl. But there is more to life than making donuts and coffee...what would life be without love. But loving a pilot isn't easy. Jack Nielsen is the young, dashing pilot that Vivian is head over heels in love with. War has a way of changing a man. Will their love survive?
My thoughts: I enjoyed this one. It was an entertaining read set in England and France, for the most part, during the war 1942-1945. It was at times serious and intense, but at other times more of your standard/typical romance. More than anything else it is a romance.
It is told from both the male and female point of view. Readers get behind-the-scene glimpse of Jack's flying missions. He experiences close calls and REALLY close calls. Every single flight is dangerous; the numbers don't lie. Her perspective mainly focuses on her anxiety and concern for him. Both perspectives have a lot of lusting. The book definitely includes scenes that are graphic. The book also includes a great deal of cursing. I don't include these warnings to keep anyone from picking up the book and reading it. I don't. I know that warnings can be misunderstood as judgments. It is better to know than not know--in my opinion--so that you can decide for yourself if a book is right for you.
© 2019 Becky Laney of
Becky's Book Reviews