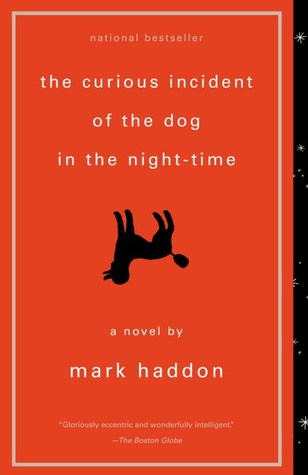 The Curious Incident of the Dog in the Night Time. Mark Haddon. 2003/2004. 226 pages. [Source: Borrowed]
First sentence: It was 7 minutes after midnight.
Premise/plot: Christopher Boone, our (relatively) young hero, discovers a dead dog in his neighbor's yard. He is determined to figure out WHO killed the dog (and possibly WHY). This also involves another new endeavor--besides 'becoming' a detective--that of becoming a writer. He is going to write a true story--he does not understand lies or fiction--of what happens. His journey soon expands beyond the one mystery to one of far greater importance.
My thoughts: How could I have not known that this one involved a dead dog?!?! I partially blame myself for not taking care of myself and "guarding" my emotions. The dog is violently, senselessly murdered...and this is what drives the story for the first few chapters. This is a book that made me lose my temper; I was this close to screaming at the book in frustration and anger. Not just for the injustice towards the dog--but for injustice in general for how Christopher is treated.
The writing is excellent, for the most part; but the story is depressing.
Quotes:
Prime numbers are what is left when you have taken all the patterns away. I think prime numbers are like life. They are very logical but you could never work out the rules, even if you spent all your time thinking about them. (12)
A lie is when you say something happened which didn't happen. But there is only ever one thing which happened at a particular time and a particular place. And there are an infinite number of things which didn't happen at that time and that place. And if I think about something which didn't happen I start thinking about all the other things which didn't happen. For example, this morning for breakfast I had Ready Brek and some hot raspberry milk shake. But if I say that I actually had Shreddies and a mug of tea I start thinking about Coco Pops and lemonade and porridge and Dr. Pepper and how I wasn't eating my breakfast in Egypt and there wasn't a rhinoceros in the room and Father wasn't wearing a diving suit and so on and even writing this makes me feel shaky and scared...(19)
© 2019 Becky Laney of
Becky's Book Reviews