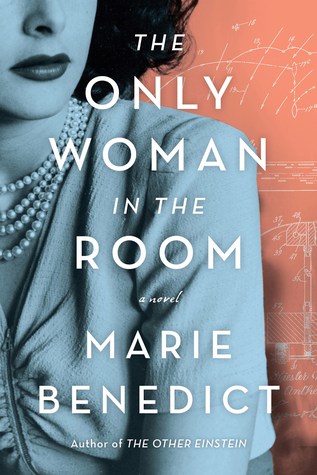 The Only Woman in the Room. Marie Benedict. 2019. Sourcebooks. 256 pages. [Source: Library]
First sentence: My lids fluttered open, but the floodlight blinded me for a moment. Placing a discreet, steadying hand on my costar's arm, I willed a confident smile upon my lips while I waited for my vision to clear. The applause thundered, and I swayed in the cacophony of sound and light. The mask I'd firmly affixed to myself for the performance slipped away for a moment, and I was no longer nineteenth century Bavarian empress Elizabeth, but simply young Hedy Kiesler.
Premise/plot: The Only Woman in the Room is a fictionalized biography of Hedy Lamarr which focuses on the turbulent years of 1933-1942. The novel opens on a fateful day--or night--she met her rich, powerful, and corrupt first husband. The year: 1933. The place: Vienna, Austria. After seeing her onstage performance he becomes or seemingly becomes besotted with her. She must be his. Because of who he is in the community--her parents feel they must give in to the pressure to allow him to see her, woo her, marry her. He manufactures and sells weapons. At the time they meet, he's known to be on the side that would keep Austria free from--independent of--Hitler's Germany. He's actually playing all super-cozy with another dictator, Mussolini. But is he to be trusted with Austria's fate? with a young girl's heart?
My thoughts: I read this dramatic and compelling novel in a little over two hours. I could not put it down. I wouldn't say it's a satisfying read in the happy-feel-good sense. It's a thought-provoking read that examines what it was like to be an intelligent, courageous woman in the 1930s and 1940s. What a novel concept that someone who was gorgeous, beautiful, breath-taking could actually have a thought in her head! Novel not in a good way--if you're a man who wants a trophy, a possession.
I'd first heard of Hedy Lamarr's contribution to the world--intellectually I mean--through an episode of Timeless a few years ago (season two, episode three). I've been curious ever since.
© 2019 Becky Laney of
Becky's Book Reviews