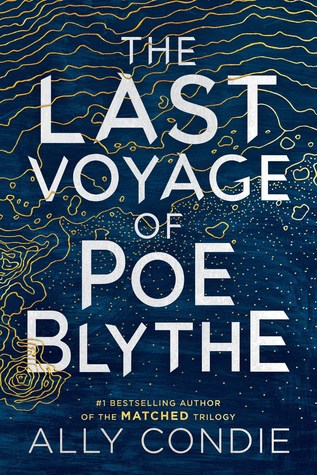 The Last Voyage of Poe Blythe. Ally Condie. 2019. 328 pages. [Source: Library]
First sentence: Call tells me he sees a star and that makes me laugh.
Premise/plot: The Last Voyage of Poe Blythe is a dystopian young adult novel. Poe loves Call. Call loves Poe. In a perfect, perfect world these two would find a way to run away together and get a chance at a happily ever after. But this isn't a perfect, perfect world--it's a dystopian novel. Call, Poe's true love, is killed in the prologue thus inspiring Poe's lust for revenge. This lust suits the Admiral just fine. In fact he considers Poe a great weapon against 'the enemy.'
Gold. The Admiral wants/needs it--badly. There are ships that dredge the river in pursuit of gold. Call and Poe are on such a ship in the prologue. And Poe spends the rest of the novel as Captain of another mining ship. This ship has been armed with a weapon of her own design--one that will keep the river raiders from boarding, from slaughtering, from stealing. It was a raider who murdered Call. But is living for revenge really living? There are many secrets to be discovered--it would be a shock and disappointment if there weren't secrets galore.
My thoughts: Action-packed. The Last Voyage of Poe Blythe is packed cover to cover with action. But is it equally packed with heart and soul? Is there much substance or depth to the world Condie has created for teens? I would say no and no. Don't get me wrong. The action alone may keep you reading. (I read this one in two days.) There's nothing wrong with a book using action, violence, and suspense to keep you turning pages. A book can be a great escape.
This is definitely an action-driven novel. Dystopians can be premise-driven, action-driven, or character-driven. Perhaps the best of the best of the genre combine all three. I prefer premise-driven or character-driven dystopians. Novels that make me think or rethink the world. Novels that feature characters that I won't be forgetting any time soon. I definitely thought the character development suffered a bit in this one.
© 2019 Becky Laney of
Becky's Book Reviews