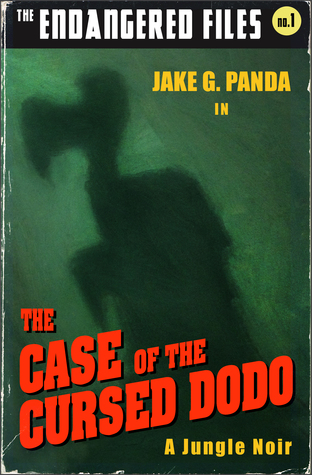 The Case of the Cursed Dodo: A Jungle Noir (Endangered Files #1) Jake G. Panda. 2014. Wooly Family Studios. 180 pages. [Source: Review copy]
More jungle noir, please! More, more, more! So yes, it's safe to assume that I loved "watching" Jake G. Panda in The Case of the Cursed Dodo. The book is written in movie/script format. Which could just have easily failed as succeeded, but, in this case worked quite well.
What did I love about The Case of the Cursed Dodo? Well, I loved, loved, loved the writing. More specifically the descriptions. Practically perfect in every way. I'll just share a few favorite bits:
That's Gloria. A dizzy grizzly who runs the front desk of this bunkhouse. She's a one of kind dame.
"Thanks, Gloria," Jake says, taking the letters. She gives him a big wink.
"Anytime, Honey."
I wish she wouldn't call me that. It makes me feel all sticky. Besides, if there's one thing I ain't, it's sweet. (13)
and
Ernie's the hotel driver. A thick-skinned pachyderm with a chip on his shoulder. He lost his tusks in a hunting accident. And he's not the kinda guy to quickly forget. But I had a soft spot for the big fella. He had a lead foot and worked for peanuts. (21)
So the premise if you haven't guessed it is that the hero is a detective. Jake G. Panda is "in the protection racket. I'm the Last Resort's house dick. The hotel snoop. The resident fuzz. It's my job to keep the guests safe and outta harm's way" (9). The first case involves a missing hare (Professor Harry), a mysterious long-buried suitcase, and a 'cursed dodo.' Plenty of action and humor. Just a treat to read.
© 2015 Becky Laney of
Becky's Book Reviews