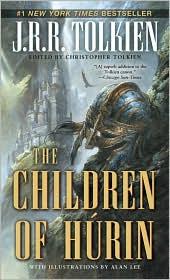 The Children of Hurin. J.R.R. Tolkien and Christopher Tolkien. 2007. HarperCollins. 313 pages. [Source: Library]
Did I enjoy reading The Children of Hurin? Yes! Very much! After reading The Silmarillion last week, I wanted more new-to-me Tolkien, and The Children of Hurin was an excellent choice. And a very reader-friendly excellent choice I might add. This is a longer version of a story contained in The Silmarillion. (I believe Tolkien wrote several adaptations or versions of this story. Perhaps one or two poetic form. But this one is prose. I'm relieved that it is.)

So Turin is hero--tragic hero--of Tolkien's Children of Hurin. And this reads like an Greek tragedy. A hero doomed because of a fatal flaw, one that is almost fundamental to who he is. It isn't a happy-happy read in other words. But it is full of spirit and adventure and love. It features several strong and brave women who love with all their hearts and minds and who will truly do anything to stand by who they love. There's a fierceness to the friendships as well. One thing I can confidently say, Children of Hurin is not boring.

I won't share many details. But you should know that it is about the ongoing battle between good versus evil. And it does feature a dragon.

I definitely liked it. I'm not sure if it was LOVE. But I definitely enjoyed it more than Book of Lost Tales Part One.
© 2015 Becky Laney of
Becky's Book Reviews