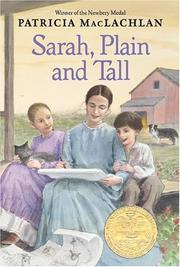 Sarah, Plain and Tall. Patricia MacLachlan. 1985. Houghton Mifflin. 64 pages. [Source: Library]
I've read Sarah, Plain and Tall several times, but, I can't find proof that I've blogged about it. So. Sarah, Plain and Tall won the Newbery in 1986. It is historical fiction for the youngest of readers.
Anna is the heroine of Sarah, Plain and Tall. Through her we meet Caleb, her brother; her father; and Sarah, the woman who may become her step-mother if all goes well. The children want this very much, a new mother.
Sarah comes to visit the family for one month. Will she come to love them? Will they come to love her? Will they belong together? Is this meant to be? Or will Sarah miss her old home and her old life too much to stay?
This is a sweet novel full of innocent longing. I loved all of the characters. There is something so simple and pure about it. Definitely recommended.
© 2015 Becky Laney of
Becky's Book Reviews