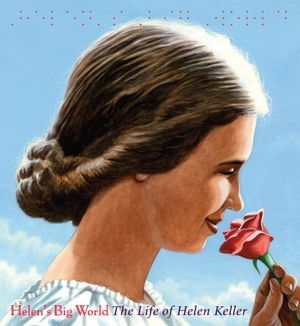 Helen's Big World. Doreen Rappaport. Illustrated by Matt Tavares. 2012. 48 pages. [Source: Library]
First sentence: Helen gurgled and giggled in her crib. At six months, she crawled and said, "How-d'ye," and "wah-wah," for water. When she was one, she ran after a ray of sunshine. she loved the mockingbird's song and the sweet smell of climbing roses. But best of all was being on her father's laps and in her mother's arms.
Premise/plot: Helen's Big World is a picture book biography of Helen Keller. Nearly every spread in this picture book includes a quote from Helen Keller herself. The narrative moves swiftly and is just beautiful.
My thoughts: Oh how I LOVED, LOVED, LOVED this one!!!! I grew up LOVING the movie The Miracle Worker. And I've always been interested in Helen and Annie's lives. This one was a PERFECT match for me. The illustrations are BEAUTIFUL AND AMAZING. The quotes almost leave me speechless. This one was my favorite:
I have the advantage of a mind trained to think, and that is the difference between myself and most people, not my blindness and their sight.
I also love this one:
I do not like the world as it is; so I am trying to make it a little more as I would like it.
Text: 5 out of 5
Illustrations: 5 out of 5
Total: 10 out of 10
© 2017 Becky Laney of
Becky's Book Reviews