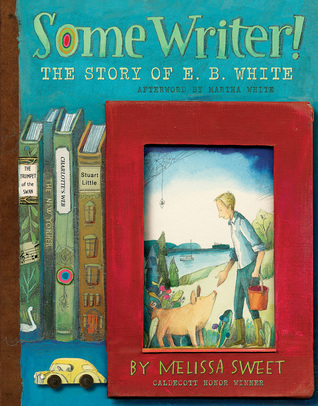 Some Writer: The Story of E.B. White. 2016. HMH. 176 pages. [Source: Review copy]
First sentence: Elwyn Brooks White became a writer while he was still wearing knickers.
Premise/plot: Melissa Sweet has authored a fantastic biography of E.B. White for middle grade readers. (Or readers of ALL ages who adore the written word!)
My thoughts: Why didn't this win an award?! I loved the subject, probably not a big surprise. I loved the design and layout. They were not publishing books like this when I was a kid. So artistically creative, it is packed with photographs and illustrations. Every spread says READ ME! So it is a beautiful book. But it's not just beautiful trappings, the way the story is told is something masterful. I love, love, love the primary sources, White's story is told in many of his own words! Excerpts from letters, articles, books, interviews, poems, etc! Perhaps many readers who are only familiar with his children's books will be charmed by his other works. (I loved reading some of his poetry!) I also loved seeing his work in progress, his drafts with edits! I loved learning that it took him seventeen takes to record the "Last Day" for the audio book because he was weeping over Charlotte's death.
This is a wonderful compelling read!
© 2017 Becky Laney of
Becky's Book Reviews