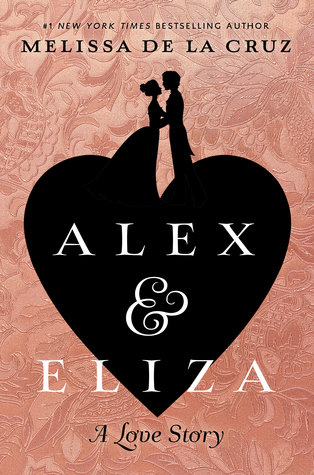 Alex and Eliza. Melissa de la Cruz. 2017. 336 pages. [Source: Library]
First sentence: The mansion on a hill shone like a lighthouse.
Premise/plot: This historical romance is light on the history and heavy on the romance. But most readers--this reader included--won't mind a bit since it draws inspiration from the Broadway musical, Hamilton. Alex and Eliza is a fictionalized love story of Alexander Hamilton and Eliza Schuyler. The author writes that since there isn't much known about their actual-actual love story--other than they were madly in love with each other--she has made one up. Expect drama and tension!
Is there a love triangle? No. Yes. No. Not really. She introduces the character of Henry Livingston into the plot. Her parents arrange a marriage for her to this Mr. Livingston. He's an obvious jerk, a big mistake; the engagement goes forward, however, since her parents supposedly don't approve of Alexander Hamilton's no-name status. There is lots of drama in "stopping the wedding" and saving Eliza from a dreadful future.
Peggy and Angelica are characters in the plot, but, it's Eliza who is front and center. (Angelica is NOT in love with Alexander Hamilton by any stretch of the imagination.)
My thoughts: I really found this to be a quick, satisfying read. Usually I like a lot more history in my historical romance. (That is if it's based on real people, real events). But. It's easy to make an exception for this one. Of the Hamilton-inspired books I've read so far, this one is definitely my favorite.
© 2017 Becky Laney of
Becky's Book Reviews