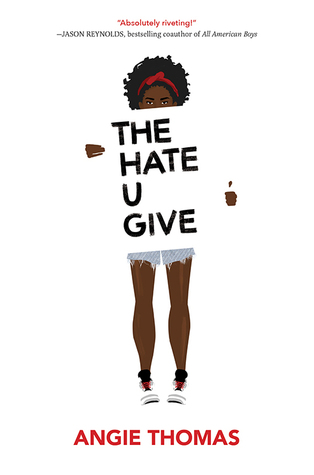 The Hate U Give. Angie Thomas. 2017. 444 pages. [Source: Library]
First sentence: I shouldn't have come to this party.
Premise/plot: The Hate U Give is a thoughtful, intense, compelling, relevant, and timely book. The book opens with a party. When the party becomes violent, Starr and Khalil leave quickly hoping to avoid drama and danger. Unfortunately, their car is pulled over by a cop on their way home. The situation escalates within minutes; Starr will be forever haunted by the memory of a (white) cop killing her friend right in front of her. The book is about the aftermath of that shooting, and also of Starr's difficulties finding her voice and overcoming her fears.
My thoughts: What did I appreciate most about this one? I'd have to say the strong characterization of ALL the characters. Starr, her mother, her father, her siblings and half-siblings, her boyfriend, her uncle, her friends. A few words about Starr are perhaps in order. Well, she identifies closely with the Fresh Prince of Bel-Air. Though she still lives in Garden Heights, she attends a mostly white private school. She feels stuck being "the black girl" in her class. Stuck may not be the right word. Then again, maybe it is. She doesn't feel safe being her absolute true self in that environment. She filters things. In her own neighborhood, she doesn't quite fit in either. Going to that school, that rich-person school, that white-person school makes her different, not in a good way. It is only at home that she's able to authentically be her whole self all the time. What led to her being sent to that school is the fact that she witnessed her best friend being killed in a drive-by shooting: they were both ten. Now violence has again turned her world upside down...but this time she's old enough to do something in response if she's brave enough.
Is the book issue-driven? Yes. Is that a bad thing? I don't think so. Not in this case. I think any person who has watched the news in the past few years can see that this book addresses real issues in an authentic way. I think for an issue book to work, it HAS to have strong characters. Since this one does, it works beautifully.
I will say it was a difficult read for me personally. The book has (understandably) strong language. It has a good bit of profanity. This profanity includes blasphemy. I am NOT saying the book is inauthentic, that the profanity is out of place or doesn't belong. The situations in the book are INTENSE and DRAMATIC. I am also NOT saying that the book is inappropriate for readers. I think in many ways this book is a must-read. I could see this one as being a great choice for classrooms and book clubs. Books should be judged for what they are, not for what any one reader wishes or hopes they were instead. I'd be surprised if this one isn't recognized with a few big awards.
© 2017 Becky Laney of
Becky's Book Reviews