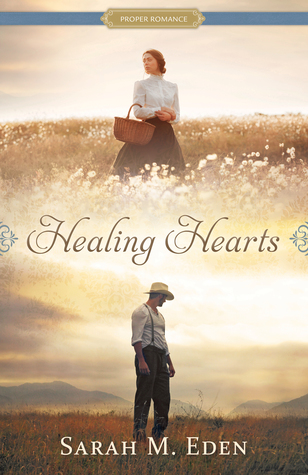 Healing Hearts. Sarah M. Eden. 2019. Shadow Mountain. 336 pages. [Source: Review copy]
First sentence: Miriam Bricks sat in the cramped and rancid interior of a rickety stagecoach and contemplated for the hundredth time how fortunate she was to be there.
Premise/plot: The hero of Healing Hearts, Dr. Gideon MacNamara needs a wife and a nurse. Neither are easy to come by in Savage Wells, Wyoming. He's sent away--mail order--for a woman who's willing to be both. Miriam Bricks is a qualified, experienced nurse. She's more than willing to be his nurse--even to cook his meals--but she's not prepared to marry him--or anyone. Will Dr. MacNamara make the best of a bad situation? YES, yes he will. What he learns about Miriam is that she's a FANTASTIC nurse. She's just as skilled treating patients as she evading questions about her past. What is she hiding from him? from everyone? Will her past come back to threaten her?
My thoughts: I really LOVED this one. It is set in Wyoming in 1876. It definitely has an Old West vibe to it--which I adored. I loved the getting-to-know-one-another aspect of their relationship. As much fun as it would be to have a marriage of convenience turn into the real deal story...this one was oh-so-satisfying. This pacing makes complete sense for Miriam. And it just felt completely right. I also enjoyed meeting the other residents of Savage Wells. And some of the visitors as well! (I know this is book two in a series, but I never once felt lost.)
I would definitely recommend this one. I was thrilled to be a part of the blog tour for this one!
© 2019 Becky Laney of
Becky's Book Reviews