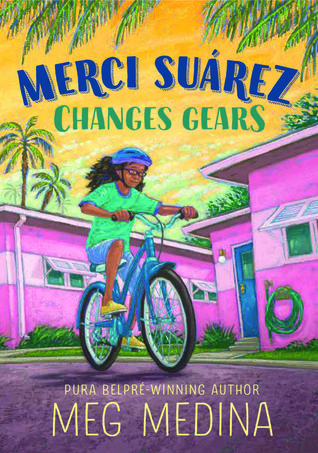 Merci Suarez Changes Gears. Meg Medina. 2018. 368 pages. [Source: Library]
First sentence: To think, only yesterday I was in chancletas, sipping lemonade and watching my twin cousins run through the sprinkler in the yard. Now, I'm here in Mr. Patchett's class, sweating in my polyester school blazer and waiting for this torture to be over.
Premise/plot: Merci Suarez Changes Gears is your typical coming-of-age novel--perhaps with one exception--it is the Newbery Medal winner for 2019. Merci Suarez has a big, loving family--though far from perfect. Merci Suarez is having some difficulty fitting in at school. (Sixth grade isn't all that easy, and the school work may be way easier than the social aspects.) Merci Suarez is at odds with another student in her class, a mean girl, EDNA. Merci will have to ultimately make peace with all the changes in her life--at home, at school.
Merci Suarez doesn't want things to change. She wants things to stay the same, or if not stay exactly the same, go HER way. For example, she wants to try out for the school's soccer team. BUT because of the big changes going on at home--her grandfather is no longer able to take care of her twin cousins after school--she can't. The truth is many things aren't going her way--not really. Will she let her circumstances make her miserable or will she rise above?
My thoughts: I liked this one okay. Part of me is curious...IF I'd read this one before the Newbery announcement would I have liked it better?!?! But I didn't. I read it AFTER the announcement, therefore I expected the book to be all kinds of wonderful. I wanted the book to stand out as amazing and unique. It didn't. I found it...well...typical. Not just the situations but the writing.
There were many things I did like...just nothing that I loved, loved, loved. Merci did have eye surgery as a child and still has a lazy eye (at times). I could relate to that. Merci was "different" from her classmates in that she was a scholarship student. She comes from a different social class, a different neighborhood than her classmates. Again, I could relate to that to a certain degree. I liked getting to know her and her family. I found the book a quick and mostly enjoyable read.
© 2019 Becky Laney of
Becky's Book Reviews