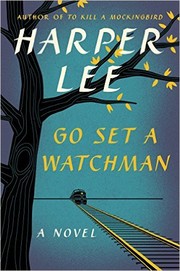 Go Set A Watchman. Harper Lee. 2015. HarperCollins. 278 pages. [Source: Library]
Did I enjoy reading Harper Lee's Go Set A Watchman? Yes and no. Yes, I wanted to read it. Yes, I had a few doubts and some hesitations to do so. Because you can't unread a book once you've read it no matter how much you want to do so! I certainly don't regret reading Go Set A Watchman. Which is saying something at least in its favor. But I wouldn't necessarily ever call it a 'must read' for its own sake. It will appeal most to those who love To Kill A Mockingbird, and it will appeal least to those who really, really love, love, love To Kill A Mockingbird.
Go Set a Watchman is not a sequel to To Kill A Mockingbird. It just isn't. It was written first, most importantly. And the characters are the same but NOT THE SAME. It's a work in progress, a work in development, a solid draft but a draft all the same. To read Go Set A Watchman as a proper sequel, one would have to accept regressing character development not just of one or two characters but of many. Of course, there are a few characters developed more fully in Go Set A Watchman. Characters whose presence was barely felt in To Kill A Mockingbird take center stage in Go Set A Watchman. It is hard to imagine the characters we know becoming the characters we see in Go Set A Watchman. Hard to imagine is keeping it on friendly terms in some ways. One reason why is the fact that Go Set A Watchman is not built in any way upon the events and characters of To Kill A Mockingbird. Atticus Finch represents a black man for trial, it's true, but the facts of the case are so completely different, and it's a trial that he wins oh-so-easily. That's just one example. Because the past of the characters is different, it's hard for me to imagine these future-characters as being the same characters. More of an alternate or parallel universe feel--in my opinion.
Were there scenes I enjoyed in Go Set A Watchman? Yes, definitely. There were a handful of scenes, mostly flashback scenes, I admit, that really stood out to me. Scout remembering summers with her big brother and Dill. An acting out of a revival of sorts. Just to name one. But present-day Scout, well, I'm not sure I like her. I get the idea that I'm supposed to really, really like her and applaud everything she thinks and says and does. To declare Scout 100% right and incapable of being in any way wrong. But I can't. I just can't. Scout is mostly-fully-grown and definitely fully opinionated. But Scout doesn't know everything--though she thinks she does--and she isn't perfectly perfect. (For the record, I don't think any one person CAN know everything there is to know and be right 100% of the time on every single little thing. I think every person has strengths and weaknesses and blind spots.)
Go Set A Watchman is a coming-of-age-as-an-adult story where Scout battles her emotions. Does she love her father? Does she like her father? Does she respect her father? Does she hate her father? Does she really, really, really hate her father? Does she never want to see him again ever, ever? One thing is certain: she KNOWS that she is right and her father is WRONG. And her father is either stupid for not knowing right from wrong, or, full of hate and cruelty for not knowing right from wrong.
Scout's challenges are probably not unique. There is a time when children question the wisdom and intelligence of their parents--and this can happen at any age--but it's also not unusual for things to swing back around either.
Is Go Set A Watchman a book about race or race relations? Yes, I'm not sure if it is the only thing the book is about. But it's certainly one of the main things it is about--simply because it is a catalyst for how Scout sees her hometown, her family, her friends, now after several years away living in New York. Scout is shocked that almost everyone she knows is hesitant and resistant and unsure about the whole civil rights thing. Atticus' view is that no one--but especially small town Southerners--likes to be told to do something and how to do something and to have their lives managed by outsiders. Atticus sees the potential for another messy Reconstruction. And he's not sure how it will all work out, how it will be accomplished cleanly, neatly, fairly, legally. He doesn't want things to be ugly, messy, violent, hateful. He's trying to prevent a complete collapse of life as they know it. Scout wants her father to be the first to embrace civil rights and to do everything he can to bring changes quickly. Scout interprets her father's hesitancy, his doubts, his fears, his uncertainties about HOW it is to be done--the details of making all things equal and fair--as HATE and bigotry. But is that fair?
Another thing Scout is struggling with from beginning to end is SHOULD I GET MARRIED? DO I WANT TO GET MARRIED? DO I NEED TO GET MARRIED? WHY SHOULD I HAVE TO GET MARRIED? WHAT CAN I DO WITH MY FREEDOM? WHY WOULD I WANT TO GIVE MY FREEDOM UP BY GETTING MARRIED? IS MARRIAGE RIGHT FOR ME? HAVE I JUST NOT MET THE RIGHT ONE YET? OR IS THE RIGHT ONE RIGHT BESIDE ME HERE IN TOWN? (His name is Hank. He grew up with Scout and Jem.)
There were definitely things that disappointed me in Go Set A Watchman. But I certainly don't regret reading it.
© 2015 Becky Laney of
Becky's Book Reviews