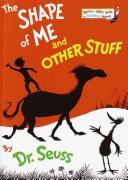 The Shape of Me And Other Stuff. Dr. Seuss. 1973. Random House. 36 pages. [Source: Library]
First sentence:
You know...
It makes a fellow think.
The shape of you
the shape of me
the shape
of everything I see...
Premise/plot: The Shape of Me and Other Stuff is a "bright and early book" for "beginning beginners." It's a simple book about the shapes of...all sorts of stuff. Somewhat random, but, perfect rhythm and rhyme.
My thoughts: Not much of a story, but, pleasant enough overall. I like the illustration style.
Have you read The Shape of Me and Other Stuff? Did you like it? love it? hate it? I'd love to know what you thought of it!
If you'd like to join me in reading or rereading Dr. Seuss (chronologically) I'd love to have you join me! The next book I'll be reviewing is There's A Wocket In My Pocket.
© 2015 Becky Laney of
Becky's Book Reviews