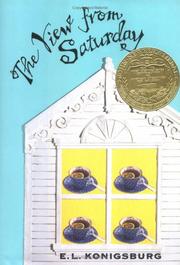 The View From Saturday. E.L. Konigsburg. 1996. 176 pages. [Source: Bought]
I enjoyed rereading E.L. Konigsburg's The View From Saturday. Though I don't usually "enjoy" (seek out) stories with multiple narrators--alternating narrators--in this case it was just right or practically perfect. Readers meet a teacher, Mrs. Olinski, and the four students on the sixth grade competitive team for the Academic Bowl. (They are Noah, Nadia, Ethan, and Julian.) All five narrate The View From Saturday. Mrs. Olinki's chapters are of the BIG competition day, and each chapter generally ends with a question being asked of the competitors. Usually. The chapters narrated by the students cover much more time, generally are full of flashbacks. It is in these narratives that characters are developed and relationships explored. All four students in her class were connected BEFORE they were chosen.
View From Saturday is a great friendship-focused, school-focused coming of age novel. Each narrative is definitely unique. And I like how interconnected the stories really are.
When I think Newbery, this is the kind of book I think of most of the time.
© 2015 Becky Laney of
Becky's Book Reviews