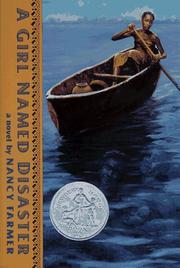 A Girl Named Disaster. Nancy Farmer. 1996. Scholastic. 320 pages. [Source: Review copy]
I read A Girl Named Disaster and Shabanu: Daughter of the Wind the same week. That fact definitely influenced my thoughts on both books--fair or not. Reading is subjective, after all.
Did I enjoy reading A Girl Named Disaster? Yes and no. I didn't exactly "enjoy" it. I found it a bit slow at the beginning, and, a bit rushed at the end. There were times I definitely found it interesting, but, I never really found myself loving it.
Nancy Farmer's A Girl Named Disaster is set in Mozambique and Zimbabwe in the early 1980s. Nhamo has an interesting relationship to the rest of the family. She dearly, dearly loves her grandmother (Ambuya), and is in return beloved of her grandmother. (She is in fact probably the favorite granddaughter.) But the rest of her family is a different story. They seem to blame Nhamo for the circumstances of her birth. Her mother returned home from school (high school??? college???) pregnant and married to a "useless" man, a man named Proud. Neither is in her life when the novel opens. Her mother died when Nhamo was a toddler--eaten by a leopard. Her father had disappeared even before that. Nhamo is, without a doubt, a hard worker. Yes, she is slightly bitter that her tasks are more difficult and time-consuming than her slightly-older cousin's--Masvita. But she isn't hate-filled and overflowing with attitude either.
Like Shabanu, A Girl Named Disaster introduces readers to a culture where marriage happens VERY early in life for girls--twelve to fourteen, and where a woman's worth is very much tied to her ability to produce children, particularly sons. Like Shabanu, A Girl Named Disaster features a heroine who is to be sacrificed via marriage. Like Shabanu, this marriage is MOST, MOST unwelcome. Dare I say this would-be marriage sounds even more unpleasant than the one in Shabanu--and I never thought I'd say that. Like Shabanu, the heroine makes the only choice she can under the circumstances....
Nhamo runs away from home in an attempt to make it across the border to Zimbabwe. Once there, she'll pretend to be Catholic--her mother attended a Catholic school--and seek refuge with nuns. Is she actually Catholic? No. Of course not. Her ideas of who Jesus is are far from sound, to say the least. But that is not exactly the point of A Girl Named Disaster.
Her journey to Zimbabwe is....much longer than she imagined it ever could be. It is not a journey of a few days or even a few weeks. MONTHS go by with Nhamo still struggling to reach her destination. It is her fight for SURVIVAL. It is definitely nature versus Nhamo...with Nhamo receiving a bit of help from the spiritual world.
Will Nhamo's life be better--easier--in Zimbabwe? Will she find her father? Will she find her father's family? Will she find welcome with them? What will happen to her if she doesn't find them? What will become of her? What are her chances of a decent life, a good life???
A Girl Named Disaster is slightly less depressing than Shabanu. That's not fair. It's not. The ending sees Nhamo with a bit of hope and a chance at a future.
Still neither book "feels" like a children's book. And when I do think of Newbery or Newbery Honor, I tend to think CHILDREN'S BOOK more than anything else. Arranged marriages, child-adult marriages, don't really come to mind. Still exposure to diverse titles can be a good thing. And both books offer readers something to think about.
© 2015 Becky Laney of
Becky's Book Reviews