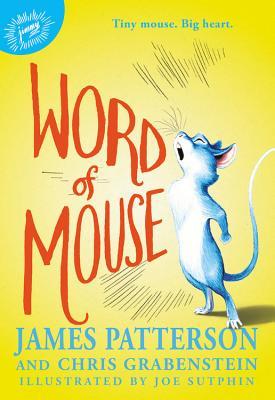 Word of Mouse. James Patterson and Chris Grabenstein. 2016 [December] Little, Brown. 304 pages. [Source: Library]
First sentence: My story starts on the day I lost my entire family.
Premise/plot: Isaiah is the runt of his mischief. He has 96 older brothers and sisters. As you might have guessed, Isaiah, the hero of Word of Mouse, is a mouse--a blue mouse. The novel opens with his family running from an evil lab. Isaiah gets separated from his family; within hours ALL of his family has been recaptured. But Isaiah learns that there are many ways to define family as the novel unfolds. There's his new mischief with the oh-so-lovely Mikayla. There's his human friend, Hailey, as well. Isaiah may be carrying a heavy burden, but, he's not carrying it alone. He's loved. He's valued. Will Isaiah find a way to be reunited with his family?
My thoughts: Isaiah is a great little character. I enjoyed getting to know him. I loved how each chapter starts out with a quote from Isaiah. I loved the short chapters. The short chapters kept me READING. I also enjoyed the illustrations. I found them just as delightful as the text.
© 2017 Becky Laney of
Becky's Book Reviews