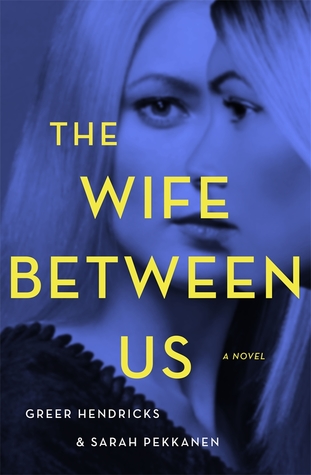 The Wife Between Us. Greer Hendricks and Sarah Pekkanen. 2018. St. Martin's Press. 352 pages. [Source: Review copy]
First sentence:
She walks briskly down the city sidewalk, her blond hair bouncing against her shoulders, her cheeks flushed, a gym bag looped over her forearm. When she reaches her apartment building, her hand dips into her purse and pulls out her keys. The street is loud and busy, with yellow cabs racing by, commuters returning from work, and shoppers entering the deli on the corner. But my eyes never stray from her.
Premise/plot: Who knew that reading Macy McMillan and the Rainbow Goddess by Shari Green would ultimately help me to review The Wife Between Us?! Shari Green has her character, Macy, thinking:
Why do we think
we can know anything about a person
by how they look
what they can do
what life is like for them now?
Because it turns out
we really can't.
The only way to know that stuff
is if someone
tells you the story.
Which, in my opinion, is a perfect spoiler-free description of the premise/plot of The Wife Between Us.
My thoughts: Have you ever judged a book by its cover? Be honest. To judge a person--a book--by appearances, by what we think we know--by what we're so sure we know--can be a dangerous thing indeed.
I read The Wife Between Us in three days. In a perfect, perfect world, I would have finished in just one. If I'd ignored eating, sleeping, and other people. (I'm much too fond of all the above these days.) Yet I want to stress that this is a compelling read.
The Wife Between Us is a rare read indeed. Let me explain--or try to explain. To those seeking a thriller, a plot-driven thriller with twists and turns, I can honestly say that The Wife Between Us satisfies. Readers meet a woman--an emotionally distraught woman--and follow her through the darkness, into the darkness, and perhaps out of the darkness too. (Or I could be trying to trick you.) Through this woman's story readers get to know Richard and "the replacement." (One woman is getting replaced by another. One woman has been cast aside. Another has been chosen as the perfect wife.) It's all about the suspense and drama. Who wronged who. Who's telling the truth. Who's lying. Is it a matter of life and death? To those seeking a character-driven novel that is complex and thought-provoking, The Wife Between Us more than satisfies. I can honestly say that to me more than anything it's the CHARACTERS that stand out as unforgettable. It's a rare read because it's both.
I loved the characterization. I loved that the characters lived. I loved the brokenness and vulnerability. I loved the fragility of everything. I loved the writing. There was never a place you "wanted" to stop reading. Because the moment you read the opening sentence of the next chapter, you needed to keep going.
I loved that it would pair so well with many classics I've read and loved in the past. Jane Eyre. Rebecca. To name just two.
I think this could easily be a great movie. But would a movie trailer spoil it all?! Probably. There are three trailers for the book.
One
.
Two
.
Three
.
One of my favorite quotes:
In my marriage, there were three truths, three alternate and sometimes competing realities. There was Richard's truth. There was my truth. And there was the actual truth, which is always the most elusive to recognize. This could be the case in every relationship, that we think we've entered into a union with another person when, in fact, we've formed a triangle with one point anchored by a silent but all-seeing judge, the arbiter of reality.
© 2017 Becky Laney of
Becky's Book Reviews