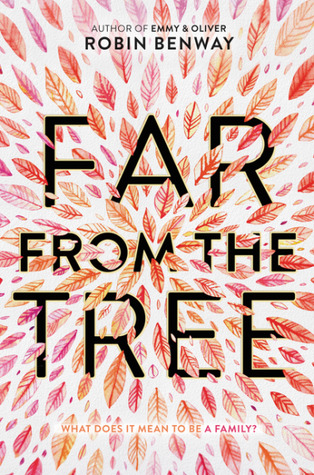 Far from the Tree. Robin Benway. 2017. HarperCollins. 384 pages. [Source: Library]
First sentence: Grace hadn't really thought too much about homecoming.
Premise/plot: Far from the Tree is YA fiction at its best. I'm not the only one who thinks so. It won the National Book Award for Young People's Literature this year. The novel opens with Grace, one of the heroines, giving birth to 'Peach.' She decided to give her baby up for adoption early on in the pregnancy. And she carefully picked out the adoptive parents. But giving up the baby wasn't easy. It was the hardest thing she's ever done. It is as she's on this emotional roller coaster that her parents bring up the fact that she has two siblings, an older brother and a younger sister. Would she like to get to know them? They all live close by. They share a birth mom. Maya is fifteen; Joaquin is seventeen. (Grace is sixteen). Far From The Tree is narrated by all three teens. Each teen is experiencing some drama and hardship. Three main characters, three sets of parents, three sets of friends. This novel has the potential to either be awesome or a HUGE mess.
My thoughts: I loved this one. I didn't expect to love it. It is YA; I'm more a middle grade fan. It uses the f-word quite a bit; this usually keeps me from 'liking' a book let alone loving it. But. The characterization is so good; and characterization is for me the MOST important thing in a book. There's depth and substance to this one. Not just with the three main characters, but with all the characters. In fact, one of my favorite characters was a side character, Rafe. There are certainly romantic elements to this one, but by far it is about family. I loved the story and the storytelling. The dialogue was great.
© 2017 Becky Laney of
Becky's Book Reviews