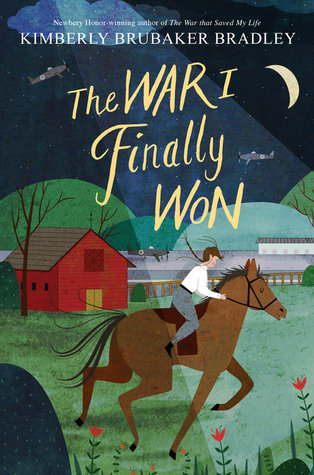 The War I Finally Won. (The War That Saved My Life #2) Kimberly Brubaker Bradley. 2017. 400 pages. [Source: Library]
First sentence: You can know things all you like, but that doesn't mean you believe them.
Premise/plot: The War I Finally Won is the sequel to The War That Saved My Life. The novel opens with Ada, the heroine, in the hospital. She is about to have surgery that will correct her club foot. Susan, her guardian for the war, is by her side. Susan has learned some news--for better or worse. Ada's mother is dead. She and Jamie are orphans. Susan, of course, has plans to adopt them forever and ever. But Ada isn't the trusting, optimistic sort. She has valid reasons; after all, her mother did lock her up and not let her out of the house, and did take out ALL her anger on her. Can Ada learn to love and be loved? Will Ada and Jamie make a new life together with Susan? Who else will join their family?
My thoughts: I loved, loved, loved both of these books. Even though there is a super-strong horse emphasis. Ada still loves Butter and finds riding her the best medicine in the world to heal her mentally, physically, emotionally. This is a fabulous coming-of-age story. And a great story about what makes a family. Ada's friendship with Maggie continues. And readers also meet a young Jewish girl named Ruth.
Definitely recommend both books to anyone and everyone who loves historical fiction.
© 2017 Becky Laney of
Becky's Book Reviews