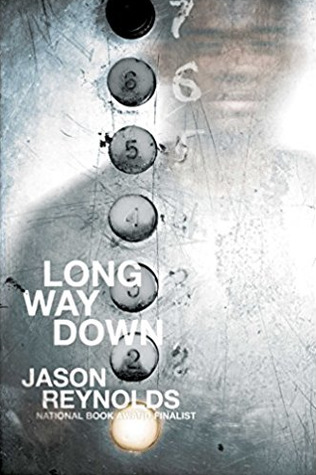 Long Way Down. Jason Reynolds. 2017. [October 24] 320 pages. [Source: Library]
First sentence: Don't nobody believe anything these days which is why I haven't told nobody the story I'm about to tell you. And truth is, you probably ain't gon' believe it either...
Premise/plot: Will Holloman is about to take an elevator ride into the Twilight Zone. If I had to give a one sentence summary of the book, that's what I'd go with. Will is a young boy--young man--ripped apart by grief. His brother, Shawn, was murdered the day before. Will thinks he knows who did it; he knows what he must do. He knows the rules. No crying. No snitching. Always take revenge. On his way to get revenge, he takes an elevator ride.
Long Way Down is written in verse.
My thoughts: Long Way Down was named a Newbery Honor Book, a Printz Honor Book, and a Coretta Scott King Author Honor Book.
When I think of Newbery and Newbery Honor books I think of books that are the exact opposite of Long Way Down. Long Way Down is a dark book featuring a troubled, broken narrator. A narrator that is open and honest about a crime he's about to commit: premeditated murder. (That is if he's a reliable narrator in the first place.) All of the poems either directly or indirectly deal with guns, violence, murder. Many show the impact of violence on the family, on the community and neighborhood. My impression wasn't that Reynolds was trying to influence readers with WHAT to think, just to get them THINKING in the first place.
The subject matter wouldn't be my first choice to read about in general, or more specifically in a Newbery Honor Book. But the world that kids are growing up in these days is dramatically different than the world I grew up in. It only makes sense that the Newbery Medal would adapt along the way.
The writing was compelling. I was surprised at how much characterization Reynolds was able to achieve in so few words. Many of the poems are VERY short.
Is Will a reliable narrator? Is the story he's telling true? What happened in the book? What didn't happen? Was he alone on the elevator? Did he go through with his plan? What were the ghosts trying to teach him--if anything? Was he perhaps already dead? If he is dead--who is he telling his story to? If he isn't dead--what choice did he make? Was it all a dream?
© 2018 Becky Laney of
Becky's Book Reviews