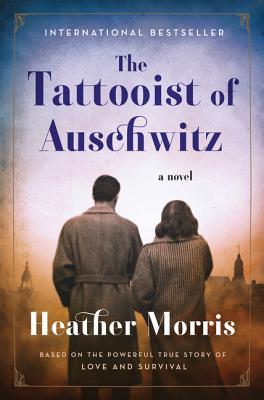 The Tattooist of Auschwitz. Heather Morris. 2018. 262 pages. [Source: Library]
First sentence: Lale tries not to look up. He reaches out to take the piece of paper being handed to him. He must transfer the five digits onto the girl who held it. There is already a number there, but it is faded. He pushes the needle into her left arm, making a three, trying to be gentle. Blood oozes. But the needle hasn't gone deep enough, and he has to trace the number again. She doesn't flinch at the pain Lale knows he's inflicting. They've been warned--say nothing, do nothing. He wipes away the blood and rubs green ink into the wound.
Premise/plot: The Tattooist of Auschwitz is a novel based on a true story. It is the story of a young man, Lale, who survives in part because of his important work--tattooing numbers on all the arrivals as they enter Auschwitz-Birkenau. He falls in love at first sight with a young woman he tattoos. He learns her name and which block she lives. (Her name is Gita). A courtship--albeit not a traditional one--begins. Three years--three long years--the two fight to hold onto hope, to survive, to cling to one another no matter how hard it gets. His job comes with a few privileges, and he takes advantage of that fact though not in a selfish way. Though many might find reason to resent him, his kindness and compassion shine through. He makes friends; he is even on civil terms with a few of the Nazis.
The novel focuses on the years 1942-1945.
My thoughts: I found this to be a compelling read. Not every Holocaust book features a romance--this one does. I definitely enjoyed Lale and Gita's story. I was cheering for them from the first. Though I could have peeked at the end to see if both survived the war, if the two got their happily ever after, I resisted. I'm glad I did. I would definitely recommend this one.
© 2019 Becky Laney of
Becky's Book Reviews