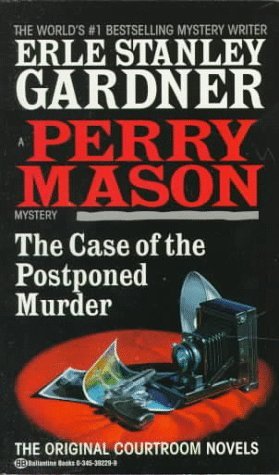 The Case of the Postponed Murder. Erle Stanley Gardner. 1973. 152 pages. [Source: Bought]
I enjoyed reading The Case of the Postponed Murder. Is it the best mystery ever? OF course not. I wouldn't even say it is the best Perry Mason mystery that I've ever read. But is it worth the quick time it takes? I think so. If you love the characters Perry Mason, Paul Drake, and Della Street, then you'll most likely enjoy reading this one enough.
The mystery begins with a woman visiting Mason's office. The would-be-client is concerned about her sister whom she claims is missing. Mason doesn't trust the woman, he thinks she's lying, or telling half-truths at least. He does direct her to hire Paul Drake as a private detective. Mason's hunch is that the sister story is flawed. His best guest is that "Sylvia Farr" the oh-so-concerned sister is in fact Mae Farr the so-called missing sister. His suspicions are confirmed a few days later, but, by then he's too involved in the case. It starts out a forgery case, an alleged check-forgery case. But, of course, you may have guessed it, ends in a murder case. (Though this one doesn't have a very satisfying murder-trial element to it.) The book is predictable enough, but, I don't have a problem with predictable and Perry Mason.
The book does feel a bit dated, even for 1973. The client, Mae Farr, is determined to be independent and strong-willed. She wants to make her way through life on her own, earn her own money, pay her own way, take care of her own problems. Yet, by the conclusion, she's decided that maybe she was wrong to think she could do it all on her own in the big city, that it would be best for her to marry the rancher who's spent years of his life loving her from afar. You definitely get the sense that she's been tamed. I guess my concern with that is that she's spent the entire book saying that she didn't love him at all, that she didn't care for him, that she'd never be happy with him, that she had no desire at all to get married and settle down. And then, within two pages a complete change of heart.
© 2014 Becky Laney of
Becky's Book Reviews