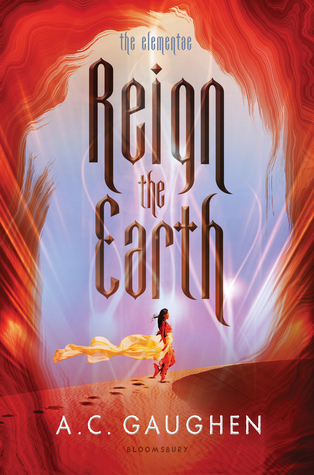 Reign the Earth. (The Elementae #1) A.C. Gaughen. 2018. Bloomsbury. 448 pages. [Source: Review copy]
First sentence: There was a scorpion in my tent.
Premise/plot: The novel begins on the eve of Shalia's arranged marriage. Her marriage could bring peace between two warring kingdoms. Could being the key word. Still, Shalia is a brave, resilient, hopeful sort who truly wants peace. Because she's lost so much already. Because she knows that ongoing war will cost her everything. Her marriage will cost her as well--separation from her family and community, from the only life she's ever known. What does she know about her future husband? Well, he's a king (named Calix). He has a brother (named Galen) and a sister (named Danae). And, yeah, one little thing--he thinks he's god incarnate. She comes to learn much, much more about them all. For better or worse.
My thoughts: Reign the Earth is solid fantasy. The world building is strong. The magical elements are nearly at the heart of this one. Nearly because to me, at least, this remains a character driven novel. There is plenty of action and suspense as well. It is a long novel, but it didn't feel as long as it was. It was well-paced.
Will it please everyone? Probably not. Why? Because no one novel can. This one has a love triangle. And it's not just any love triangle. It's a love triangle with brothers. This isn't unheard of in romance novels or soap operas. Some readers have a low tolerance for love triangles. For me, it depends on the book. In this case, I didn't mind--probably because the characters were actually developed and the circumstances made sense to me. This one does feature mature scenes and topics.
One of the big topics in this one is abuse: physical, mental, emotional abuse. Shalia is not a character easily shattered or broken. She's made of strong stuff, but is she strong enough? If reading about abuse in relationships is disturbing to you, that's because it should be. Books shouldn't be about staying in comfort zones and closing our eyes to real world problems. This novel may be fantasy but romantic relationships can be dangerously unhealthy. This novel goes there and the heroine is a champion.
© 2018 Becky Laney of
Becky's Book Reviews