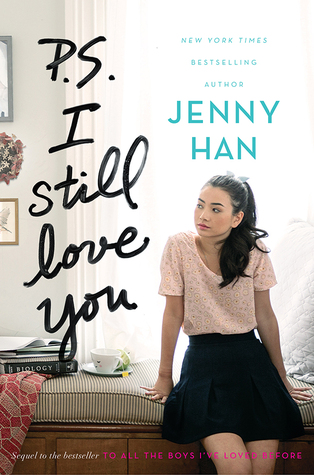 P.S. I Still Love You. (To All The Boys I've Loved Before #2) Jenny Han. 2015. Simon & Schuster. [Source: Library]
First sentence: Dear Peter, I miss you. It's only been five days but I miss you like it's been five years.
Premise/plot: P.S. I Still Love You is the sequel to Jenny Han's
To All The Boys I've Loved Before
. Peter and Lara Jean, our hero and heroine, are together--except for when they're not. Their now "real" relationship gets tested. Tested by the reality and aftermath of the hot tub video. Tested by Peter's friendship with his ex. Tested by Lara Jean's relationship with another recipient, John Ambrose McClaren. Will they still be together by the end of the book? Or will Lara Jean have a new boyfriend?
My thoughts: I recently watched the Netflix adaptation of To All The Boys I've Loved Before. I loved, loved, loved it. It brought to mind all the reasons why I enjoyed the first book. I would have reread the first book, but the holds list was LONG. So I began with the second book. I have memories of starting it before--but not finishing it. (Probably because it wouldn't renew not because it was dreadful.) How do I feel about the second book? I don't love, love, love it.
What I loved about the first book was the connection between Lara Jean and Peter as revealed by their conversations. In the little things these two shared together as their relationship developed. It's not that these two never, ever, ever talk in the second book, BUT more often than not the dialogue is an ARGUMENT, a misunderstanding, or just awkward.
The person she's having those sweet, little, get-to-know-you conversations with in this book is John Ambrose McClaren. It begins with an exchanging of letters. Then they begin to hang out in real life. Then they begin a flirtation of sorts. Lara Jean feels justified because Peter is still talking--even hanging out with--his ex.
Though always telling the truth was written into their new contract, Lara Jean and Peter struggle to communicate with one another. There is little--if any--trust between them. Peter is jealous of John. Lara Jean is jealous of Genevieve. Lara Jean is more than a little worried about how-to-be-a-girlfriend.
One thing I did love was her sister Kitty. Kitty turns ten in this one.
© 2018 Becky Laney of
Becky's Book Reviews