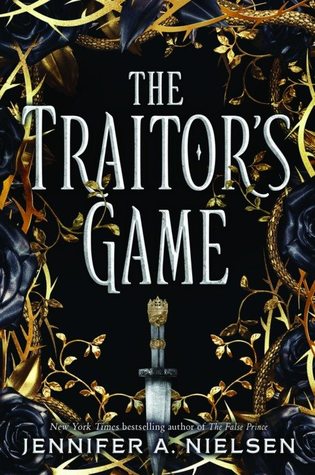 The Traitor's Game. Jennifer A. Nielsen. 2018. Scholastic. 388 pages. [Source: Library]
First sentence: The truth of where I've been for the past three years wasn't what anyone believed.
Premise/plot: The Traitor's Game is Jennifer Nielsen's newest fantasy novel. Kestra, our heroine, has never had an easy life despite what her enemies think. And her enemies are many make no mistake about that. But is Simon, our hero, her enemy? Appearances can be deceiving.
The Traitor's Game has two narrators: Kestra and Simon. Simon is in on the plot to kidnap Kestra, to force her to betray her family by doing their bidding. They are holding her friend, her servant, Darrow, prisoner. He will be killed if she fails at her mission. What is the mission: to find a legendary blade--the Olden Blade--a knife that can supposedly kill Lord Endrick himself. (As it is now with his magic he's virtually immortal and absolutely evil through and through.) Her father, Lord Dallisor, serves Lord Endrick. Kestra's family is on the "wrong" side as far as Simon and his associates are concerned. Simon is NOT working alone; he is not giving orders but taking orders. So is Trina. The difference between the two is that Simon has empathy and Trina not so much.
Kestra does not love her father. They mutually loathe one another. But that doesn't mean she's automatically ready to betray her family, her country, and sever all ties with home. Even if she does think Lord Endrick needs to be stopped by someone somehow someway. She'll cooperate--up to a certain point at least--but trust Trina or Simon enough to join their rebellion?! She's not ready to go there.
The Traitor's Game is an action-packed fantasy with mystery and danger.
My thoughts: I enjoyed this one. I did. I liked both Simon and Kestra. Dual narration doesn't always work for me, but in this case it did. The world-building was good, nothing neat and tidy about it. It never info-dumped in my opinion. In fact it added to the suspense of the novel. The suspense comes from the mystery surrounding the different races/nations. It does not come from the romance--which is as it should be in my opinion. This book did not need the suspense to come from will she or won't she end up kissing Simon.
I will definitely read the next book when it comes out.
© 2018 Becky Laney of
Becky's Book Reviews