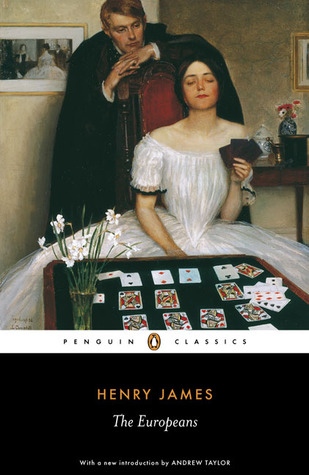 The Europeans. Henry James. 1878. 192 pages. [Source: Bought]
First sentence:
A narrow grave-yard in the heart of a bustling, indifferent city, seen from the windows of a gloomy-looking inn, is at no time an object of enlivening suggestion; and the spectacle is not at its best when the mouldy tombstones and funereal umbrage have received the ineffectual refreshment of a dull, moist snow-fall.
Premise/plot: Eugenia (Baroness Munster) and her brother, Felix Young, have come to America to visit their American cousins. She is separated from her husband, but it's a morganatic marriage. She has papers to sign--or not sign--that will determine her future.
The cousins they visit are: Gertrude, Charlotte, and Clifford Wentworth. A few others play an important role in the novel: a brother and sister, Robert and Lizzie Acton; and a Mr. Brand.
Eugenia is very different from Gertrude and Charlotte and Lizzie. She is a puzzle to Clifford and Robert. Both men pursue her, perhaps not with the intent to marry her and change her, but, pursue her because she's so different, mysterious, evasive, elusive. Neither Clifford or Robert are a good match--an equal match--for Eugenia. Robert may be rich, but, five minutes alone with him is four minutes too long. He's a BORE quite simple. Her act of deciding to leave America and turn down his marriage proposal might be called selfless if she'd not disliked him so much!!!
Gertrude is 'the troubled' one of her family. Her father and her sister keep trying their best to mold her, to train her, to conform her, to tame her, to control her. Gertrude doesn't really like their continued efforts--though she puts up with a great deal. They ideally want her to marry Mr. Brand. They think he's suited to this difficult task of fixing Gertrude. But Gertrude doesn't want to be fixed: she wants to be free to be herself, free to think her own thoughts. Felix is the first person, I gather, that accepts Gertrude for Gertrude, and finds her a wonderful WONDER. He doesn't feel the need--at least before the marriage vows--to put Gertrude in a box.
I definitely liked Felix. I would never assume that Felix is a perfect person, that he's an ideal hero. But. I do think Gertrude's chances of happiness are greater paired with Felix than with Mr. Brand.
My thoughts: This was a quick read. I think the characters were purposefully kept distant from the reader. It is less melodramatic and emotional than The American definitely!!!
Favorite quotes:
Not to recognize one's mistakes — that would be happiness in life," the lady went on, still looking at her pretty foot.
"I don't count upon their being clever or friendly — at first — or elegant or interesting. But I assure you I insist upon their being rich."
"I can easily be French, if that will please you." "You are a foreigner of some sort," said Gertrude. "Of some sort — yes; I suppose so. But who can say of what sort? I don't think we have ever had occasion to settle the question. You know there are people like that. About their country, their religion, their profession, they can't tell."
"Well," she said, "I didn't think we should ever see you again." "And pray what did you think would become of me?" "I don't know. I thought you would melt away." "That's a compliment to my solidity! I melt very often," said Felix, "but there is always something left of me." "I came and waited for you by the door, because the others did," Gertrude went on. "But if you had never appeared I should not have been surprised."
There are a thousand different ways of being good company.
"Do you think us good company?" asked Gertrude. "Company for a king!" Gertrude was silent a moment; and then, "There must be a thousand different ways of being dreary," she said; "and sometimes I think we make use of them all." Felix stood up quickly, holding up his hand. "If you could only keep that look on your face for half an hour — while I catch it!" he said. "It is uncommonly handsome."
"My dear uncle," said Felix, "excuse me if your question makes me smile a little. To begin with, I have never entertained an idea. Ideas often entertain me; but I am afraid I have never seriously made a plan. I know what you are going to say; or rather, I know what you think, for I don't think you will say it — that this is very frivolous and loose-minded on my part. So it is; but I am made like that; I take things as they come, and somehow there is always some new thing to follow the last.
"No time is lost in which one has been happy!" said Felix, with a bright sententiousness which may well have been a little irritating.
"You have lost an illusion!" said Felix. "What do you call an illusion?" "The belief that you really know — that you have ever really known — Gertrude Wentworth. Depend upon that," pursued Felix. "I don't know her yet; but I have no illusions; I don't pretend to."
© 2017 Becky Laney of
Becky's Book Reviews