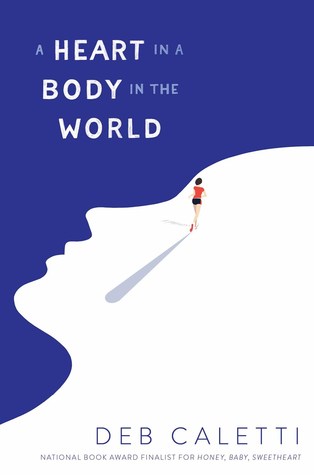 A Heart in a Body in the World. Deb Caletti. 2018. 368 pages. [Source: Library]
First sentence: Annabelle Agnelli is trying to hold it together in the parking lot of Dick's Drive-In. After what just happened, she's stunned. Frozen. And then--imagine it--Annabelle's wrecked self suddenly takes off like a lightning bolt.
Premise/plot: If ever a book needs a freezer, then A Heart in the Body in the World does. Annabelle's story--her nightmare of a story--unfolds slowly throughout the book as she runs across the country. Is she running from her past? running from her present? or running towards her future? Annabelle herself couldn't tell you why she's running--just that she must keep going no matter what. She's supported--for the most part--by her family and friends. Grandpa Ed is driving his RV cross country. Every day these two meet up at the end of the day. (Grandpa Ed has his lady friend and her grandson meet up now and then with them as well. His name is Luke Messenger. Oh-so-reluctantly Annabelle lets herself make a new friend.)
My thoughts: At first I found the slow-reveal to be frustrating. Part of me wanted to know what traumatic event had shattered Annabelle's life and know it
now
. But as more of her story came out, I lost my frustration. By the time we know everything we are so completely engaged and connected with Annabelle (and those close to her) that her pain is our pain. This has all the feels--thus the need for a FREEZER.
Should every one read A Heart In a Body In the World? Yes. No. Yes. No. Maybe. I will say that this one is not a clean read. This one has language in it--blasphemy. It is not frivolous, trivial, or casual. And the subject matter is so important--so relevant--that I think it is probably worth reading for most. So many discussions could/should be had around this one. It is not age-appropriate for every one. Just because a reader isn't ready now doesn't mean that the reader will never be ready.
© 2018 Becky Laney of
Becky's Book Reviews