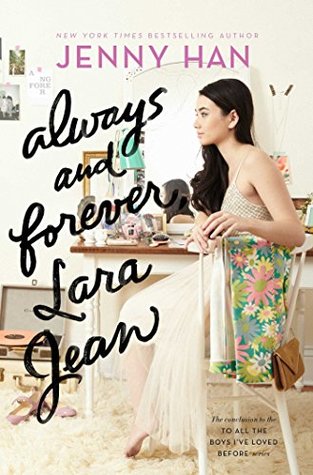 Always and Forever, Lara Jean. (To All The Boys I've Loved Before #3) Jenny Han. 2017. 325 pages. [Source: Library]
First sentence: I like to watch Peter when he doesn't know I'm looking.
Premise/plot: This is the third and final book in the To All the Boys I've Loved Before series by Jenny Han. I reviewed
the second book in September 2018
. I
reviewed the first book in 2015
.
Some series books can be read as stand-alones. This isn't one of them. Lara Jean is the middle sister. Her older sister, Margot, is in college--far away from home. Her younger sister, Kitty, is just eleven. Lara Jean is in her senior year of high school. Lara Jean is head over heels in love with Peter. He was her first fake boyfriend and her first real boyfriend. They've been through some stuff in the past, but in this book they are mainly strong and solid. In addition to being about the last few months of school before the two go to two different colleges, the book is about her father's upcoming wedding. Lara Jean isn't the only one whose life is changing...
My thoughts: I loved the first book. (Especially the first time I read it. Perhaps not as much the second time around.) I tolerated the second book. (It just didn't work for me because it had barely any Peter and Lara Jean in it. Not really.) The third book was quite enjoyable. I really loved that Peter and Lara Jean spend so much time talking. (Not that talking is all they ever do. But. I love seeing Peter interact with Lara Jean, with her sister, Kitty, with her Dad, etc. Peter just BELONGS with Lara Jean.)
I spent the whole book worried. In fact I cheated a few times and flipped to the end of the book. Would these two still be together at the end? Would she break up with Peter before going to college? Would they fight over something stupid? The book ends as well as it can for it to be just a chapter in a person's life.
What I want to see--what I need to see--a few years from now is for Jenny Han to write a new book (or perhaps a trilogy) starring KITTY as a main character. Wait for Kitty to mature a bit--get into high school and then GIVE READERS a treat. Let us see what is going on with this family once more. I'm guessing that if Kitty at age 11 is awesome that Kitty at age 15 or 16 would be worth spending time with.
© 2018 Becky Laney of
Becky's Book Reviews